International Training Workshop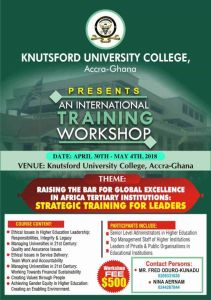 Knutsford University College, Accra – Ghana is pleased to invite you to participate in an international training workshop in collaboration with Pinnacle currently on-going at it's East Legon  Campus on the theme "Raising the Bar for Global Excellence in Africa Tertiary Institutions: Strategic Training for Leaders"
is scheduled as follows:
Date:
April 30 – May 4, 2018
Time: 9:00 am – 4:00pm daily
Venue: 

Knutsford

University College, East Legon
International Training Workshop Gallery
[envira-gallery id="1901″]

Knutsford University College, one of Africa's prestigious University Colleges affiliated to the University of Ghana-Legon, is offering a well-tailored transformational leadership training and development for the next generation of African leaders.

Resource persons have been carefully selected to ignite a transformative and innovative thinking in service delivery in a competitive environment, a panacea to progress of Higher Educational institutions in today's Africa.

We are also pleased to inform you that adequate logistical provisions for your comfortable stay in Ghana have been put in place. We are confident that your participation in this workshop will enhance your knowledge and skills in service delivery in today's competitive environment.

 For further assistance, kindly contact Mr. Fred Oduro-Konadu on

+ 233 (0) 20 933-1630 or Ms. Esther Klime on +233 (0) 2612-55824

Looking forward to seeing you for the workshop.
International Training Workshop