Bsc Information Technology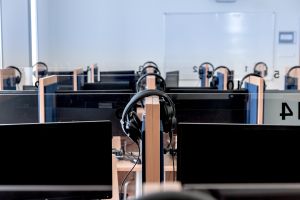 Aims and Objectives
The programme aims at producing competent graduates to deal with the current and emerging technological complexities in industry and in their communities. Graduates are expected to recognize opportunities and develop appropriate IT solutions that seek to address a particular issue.
In fulfilling this, the program is designed to:
Impart sound technical knowledge and skills to students on a range of IT courses, thereby enabling them to develop the appropriate know-how in troubleshooting, designing and implementing IT solutions, and
Develop entrepreneurial and basic business skills to enable students recognize opportunity and develop businesses to facilitate service delivery.
The programme aims to develop technical competencies in the area of Software Development, Databases and Database Management, Networking, IT Security, Entrepreneurship and IT Project Management.
The objectives of the programme are to equip students to be able to:
Design and write software programs to perform a wide range of tasks.
Design and implement varying networking solutions to facilitate data communication.
Understand database design, implementation and management.
Develop the requisite skills for undertaking research-based IT projects.
Recognize business opportunity that enables them to develop IT services for commercial gain.
Programme Details
i. Progamme Duration
Minimum of four (4) years and Maximum of six (6) years
ii. Credit required for the Award of Degree
The credits required for the award of the first degree are as follows:
Entry into Level 100: A Maximum of 132 credits and a minimum of 120 credits.
Entry into Level 200: A Maximum of 102 credits with a minimum of 96 credits.
Entry into Level 300: A Maximum of 72 credits with a minimum of 60 credits.
Bsc Information Technology