Security Intelligence & Forensics Studies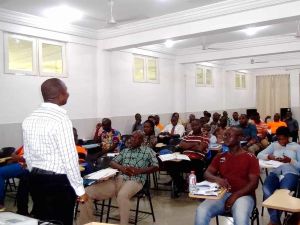 Security Intelligence & Forensics Studies is currently on going.
Knutsford University College is pleased to announce its weekend Security Intelligence and Forensic Course.
\
PROGRAMME OBJECTIVES
The Security Intelligence and Forensic Studies Course is specially designed to achieve the following:
To enable you to articulate expectancies of development of current and new threats.
To conduct threat analysis in a structured process by applying proven methods.
To use the knowledge gained through the analyses and reports to effectively organize your organization's security process.
EFFECTIVE CERTIFICATE IN SECURITY INTELLIGENCE AND FORENSIC STUDIES
CONTENT;
Introduction to Fingerprint Science and Biometric Science Studies.
Introduction to computer forensics, Information Security and Cyber Crime Investigations.
Intelligence report writing.
Intelligence, strategy and decision making.
Issues pertaining to terrorism.
Introduction to Security Management.
Corporate investigative skills.
Bomb threat and suspicious package management.
2. ADVANCED EXECUTIVE CERTIFICATE IN SECURITY INTELLIGENCE AND FORENSIC STUDIES
CONTENT;
Introduction to fingerprint and biometric science 2.
Risk analysis and security survey.
Mastering intelligence operations.
Principles of security law.
Computer forensics and information security.
Cyber crime investigations.
Presentation skills.
Business Report Writing.
Research Methods.
Criminal Procedures 2.
Counter Terrorism.
Diplomacy and Foreign Policy.
TARGET GROUP:
State Security Agencies, Law Enforcement Agencies, Business Detectives, Risk and Security Advisors, Private Security Firms, and individuals seeking a career in security services.
TIME;
9:00 AM – 3:00PM (Saturdays Only)
DURATION;
8 Weeks
VENUE;
ACCRA CAMPUS – Knutsford University College – East Legon (Behind Mensvic Hotel).
KUMASI CAMPUS – Ghana Bible College, Opposite Bomso Clinic & Behind Latter Day Saints.
CONTACT: For further enquiries and Registration Please call : 0249450772 / 0267921325 / 0275259713 / 0264991873 .
You can also download the Registration Form on Knutsford's Website
Please submit filled registration form by hand to the Coordinator or email: kusithomas@gmail.com
Security Intelligence & Forensics Studies